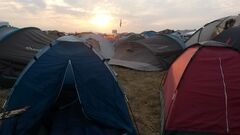 This wiki provides information and advice on how to manage music events. By proper documentation of the events management processes, this wiki serves as a contemporary encyclopedia on stage and sound setup; and other components required to organize successful music events repeatably.
This wiki serves as a collaborative guide on how to manage festivals and indoor events. Live events is a vital component of the entertainment industry and the ever-changing entertainment industry requires events to be produced in new, innovating ways. By continuously evaluating the events management processes, this wiki can produce information and advice on how to manage successful events repeatably.
Events management is the mutually dependent, complex processes involved in planning and operating a festival or concert. Through proper documentation most of the administration of an event can be a repeatable process which creates trace-ability when a problem occurs. There is no single method to guarantee the success of an event, but a theoretical approach can highlight the essential processes required to manage events seamlessly, and hopefully infer more effective management processes.
Music events management processes are largely undocumented and its potential for improvement significantly under-utilized. A common example is festivals that generate massive amounts of waste with zero recovery effort, destroying valuable relations with host communities instead of developing the host-communities' economy.
How can I help?
Your inputs and recommendations are welcome here! There are currently 514 edits on this wiki. Help by expanding and adding articles on this wiki. For starters, feel free to join Wikia by creating a free account.
Featured articles
Edit
Latest activity
Edit