Safety includes all the hazards to the well-being of human operators. It includes management strategies of crowd, transport and services. The responsibility of assuring safe conditions lies primarily with the Head event manager It is highly recommended to provide effective insurance and liability.
Includes non-natural accidents, such as no drinking and driving awareness.
Glass containers at festivals can present additional hazards.
First aid
Edit
It is required to assign a first aid officer and on-site medics.
Establish an clearly identifiable emergency coordination centre.
Identify the transport routes for the ambulance to the nearest hospital.
The site plan should indicate first aid posts.
It is required to provide clean drinking water. The number in attendance determines the needs and facilities requiring a certain amount of water. Green publicity is a poor excuse to not provide drinking water. The management should always provide the services they sell - selling passes to showers dictates that the showers service should not be abruptly stopped due to poor planning.[1]
Natural threats
Edit
Natural threats occur from natural phenomena such as storms and hurricanes. Not all threats are preventable, but the risk management team can make necessary precautions in a storm plan.
Ground charts for example can ensure stage will be located on a firm basis.
Fire control
Edit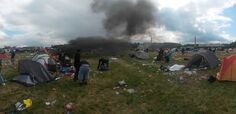 Any event requires general fire safety and fire prevention by promoting safe working practices. Fires could be accidental or deliberate.
Any flammable materials used within the confines of an event must be declared prior to it being used on site.
Any hazourdous
Fire fighting equipment is required to be strategically located throughout the venue for the case of fire.
Determine gas and/or naked flame use prior to the event.
Wind can gave a huge effect on the spread of fires.
Communication with local fire department is highly recommended.
At dusty camp-sites wind can cause a lot of inconvenience with dust, as well as possessions that can be blow away. Wind also have an impact on the circulation of refuse.
Security
Edit
Usually a qualified security company that has been trained in events management are required to plan in collaboration with the local Police Services.
Venue security is required for the protection of equipment by theft or damage. Backstage security to protect performers, attendees and equipment.
Alcohol threat is a concern for the festival attendees. Alcohol should be served by trained people to control the consumption.
Lockers for attendees to store valuable goods is highly recommended for festivals.
Health clearance certificates for vendors handling food
Edit
Usually it is required that all vendors must produce a valid health clearance certificate according to local Health Acts.[2]
References
Edit
↑ Rocking the Daisies 2014 turned off the water supply due to "excessive water usage".